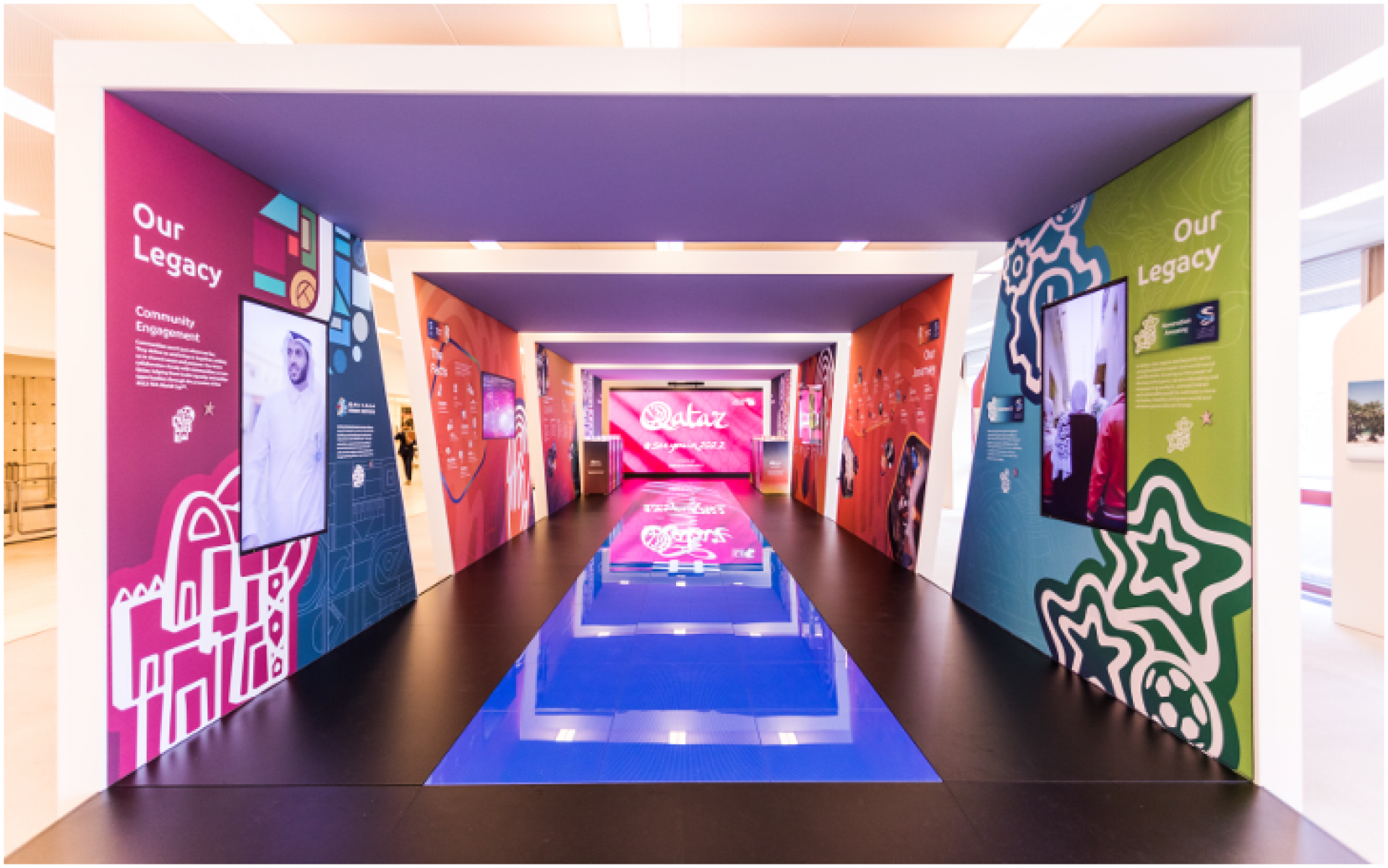 Supreme Committee for Delivery & Legacy
Supreme Committee

interactive exhibition
Highlighting workers' welfare and community initiatives
Running from 25 February until 8 March on the sidelines of the 40th session of the United Nations Human Rights Council in Geneva, the immersive exhibition focused on the progress of the Workers' Welfare Department of the Supreme Committee for Delivery & Legacy since the programme commenced in 2013.

The Task
The exhibition needed to captivate visitors and highlight the important work and significant development and achievements of the Workers' Welfare Programme - while working with a limited space.
The Solution
fischerAppelt created a custom-made exhibition setting engaging visitors through a combination of smart spatial design, interactive displays and conventional physical exhibits highlighting key achievements and a vibrant branding concept.
The exhibition also highlighted the work of the Josoor Institute, Challenge 22 and Generation Amazing, the SC's flagship corporate social responsibility programme.
The exhibition was produced by fischerAppelt in a joint effort between the Doha office leading the client consultancy, conception and creative work as well as the content production and supervision of the exhibition, and the Cologne office who supervised production, set build, transport and execution on-site at the venue in Geneva.
The Result
On the occasion of the exhibition, SC Secretary General, H.E. Hassan Al Thawadi, said:

"Our commitment to workers' welfare has been unwavering even before construction began on our stadiums in early 2014. We have always believed this World Cup would help accelerate positive social change in Qatar and the region, and leave a lasting legacy long after 2022. We are proud that our Workers' Welfare Standards today serve as a benchmark in the region, and this exhibition demonstrates the scale of our journey in a relatively short space of time."