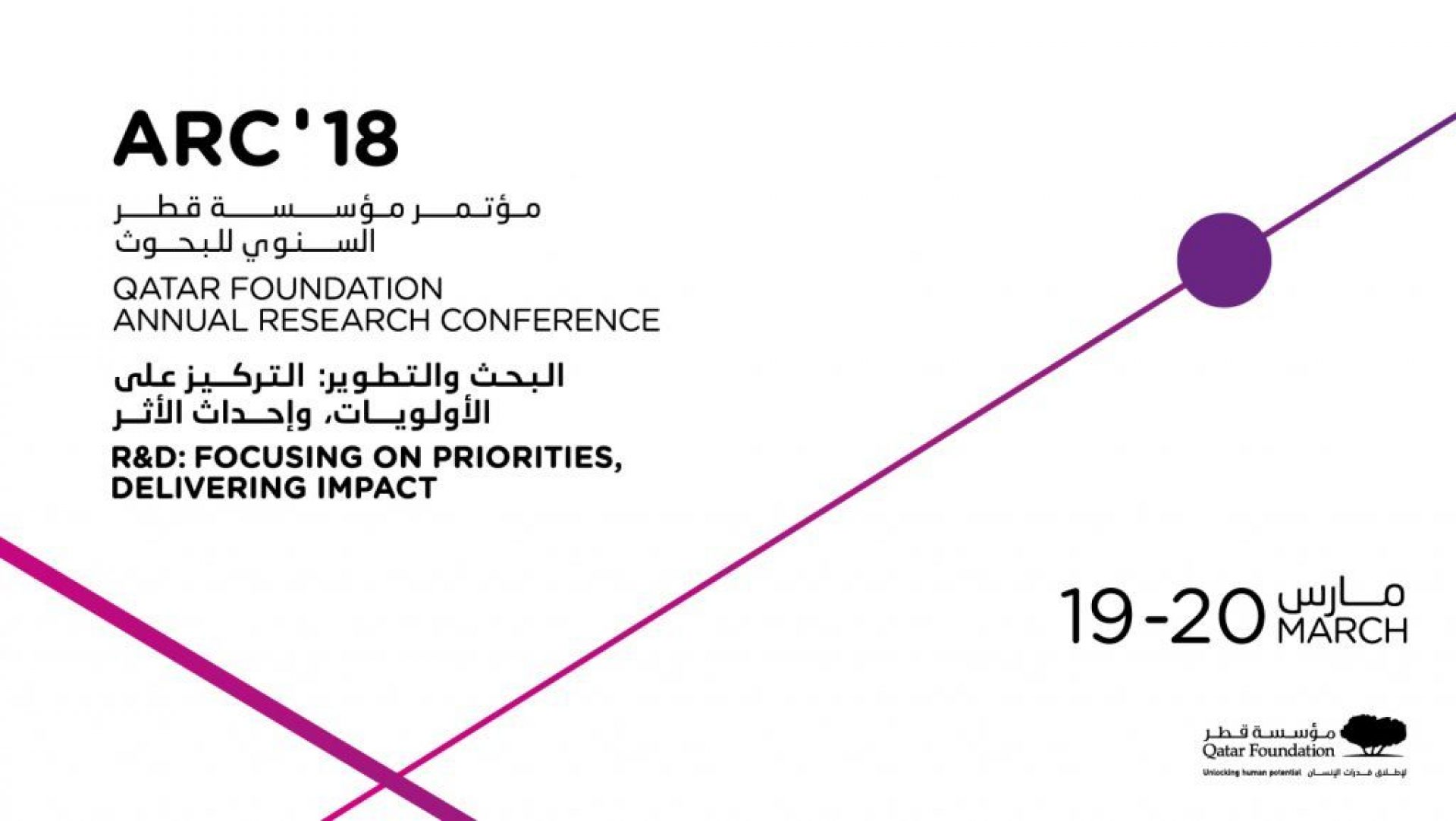 Qatar's flagship conference in research and development
The Qatar Foundation Annual Research Conference 2018 (ARC'18) will be held on 19 - 20 March, 2018, at the Qatar National Convention Centre.
ARC'18, Qatar Foundation Research and Development's flagship conference, builds on nationwide efforts to advance Qatar's ambitious research agenda under the theme"R&D: Focusing on Priorities, Delivering Impact". It provides a unique platform to activate multidisciplinary knowledge sharing and collaboration needed to tackle the most pressing national challenges in research, as well as bolster Qatar's research and development sector.

The upcoming conference follows on the success of ARC'16, which was attended by more than 2,000 delegates. A record number of more than 1,000 scientific abstracts were received of which close to 450 high-quality abstracts were accepted for poster presentations. Additionally, the authors of about 50 exceptional abstracts had the opportunity to deliver oral presentations on their research and contend for the best research presentation award. The theme of this year's conference is 'R&D: Focused on Priorities, Delivering Impact'.
ARC'18 will feature various sessions related to the four thematic pillars defined in Qatar's National Research Strategy (QNRS):
Energy and Environment
Computing and Information Technology
Health, and Biomedical
Social Sciences, Arts and Humanities
Pursuing the vision of developing Qatar into a leading center for research and development excellence and innovation, ARC'18 will include thought-provoking panel discussions and technical presentations where leading experts will share constructive experiences and innovative approaches aimed at addressing critical issues such as Qatar's cyber and water security, solar and renewable energy solutions, healthcare, as well as the social challenges and opportunities facing Qatar and the region.
ARC'18 will allow thought leaders and experts to have progressive deliberations on how best to drive Qatar towards world-class research and innovation. Networking and exhibition opportunities will serve as outlets for further engagement amongst local and international delegates.
Learn more at https://www.qf-arc.org/en-us/ARC-18 .
The conference is managed by fischerAppelt as a turnkey project for Qatar Foundation.