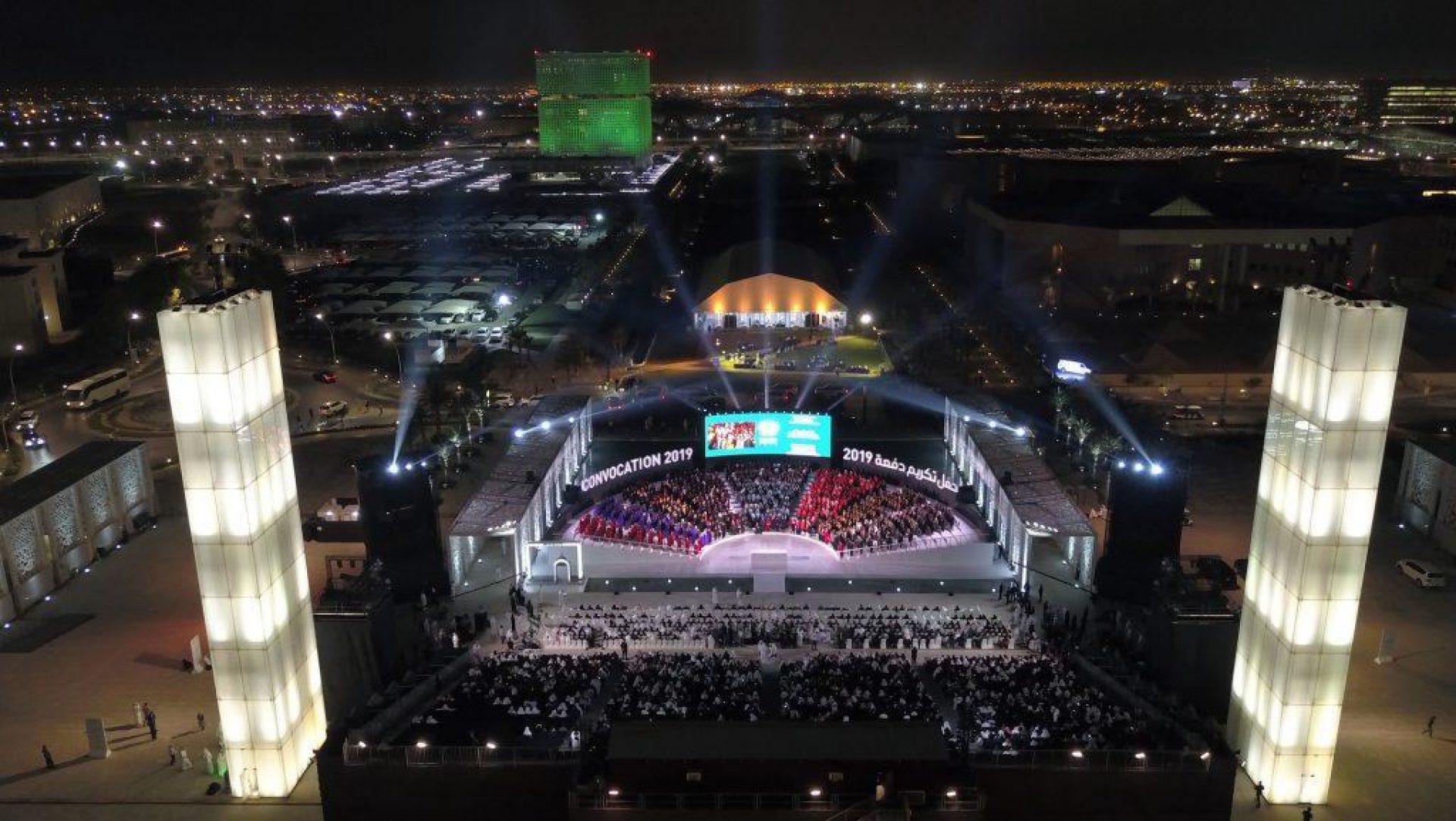 Qatar Foundation
Convocation

2019
Celebrating Education with over 750 students
Convocation 2019 was the annual joint graduation ceremony for the class of 2019 of all Education City universities, traditionally held at the Ceremonial Court of Education City.
The Task
For the 2019 Convocation, Qatar Foundation was looking for a bespoke and immersive venue design to accommodate more than 750 students in a tiered seating arrangement opposite of over 3,000 guests including VVIPs and the graduates' families and to ensure that graduates would be able to perform the reception of their traditional graduation ring and then be re-seated.

The Solution
In order to achieve this, fischerAppelt designed a custom-built temporary amphitheatre setup situated at the centre of the grand Ceremonial Court of Education City as part of the main stage. Guests' seating with optimal viewing angles was solved with a temporary grandstand structure for a capacity of over 3,000 guests plus VIP seating directly opposite of the stage and amphitheatre.
The venue design was completed by a curved main LED screen, reverse-facing side LED screens for the graduates to enjoy the entire, along with lighting effects and ambient lighting synchronised with the respective universities' signature colours.
A key challenge is the precise lining up of students for the procession to fill their seats as every student has to sit in an exact position. In order to achieve this, a dedicated temporary backstage venue was created for students to register upon arrival and eventually be lined up for the procession. Various interactive activities in the students' holding area such as live interviews, a twitter wall and more provided entertainment and content for the guests in the main venue before the start of the official proceedings. The backstage facilities were completely set up with temporary power supply, toilet facilities and catering arrangements.

The event programme further included a "Class of 2019" film jointly produced by fischerAppelt and Qatar.
The Result
The 2019 Convocation was held in the gracious presence of H.H. Sheikh Tamim bin Hamad Al Thani, Amir of Qatar, as well as H.H. Sheikha Moza bint Nasser, Chairperson of QF, H.E. Sheikha Hind bint Hamad Al Thani, Vice-Chairperson and CEO of QF, H.E. Sheikh Joaan bin Hamad Al Thani, President of Qatar Olympic Committee and several other dignitaries and VVIPs.